Напредни системи за превенција и рано откривање на шумски пожари

Шумските пожари се еден од главните ризици за природата и заштитените шумски површини. Откривањето во раната фаза останува еден од најголемите предизвици за истражувачите и институциите во системите за управување со кризи во Европа.
Шумските пожари претставуваат ризик за животната средина и нивното откривање во раната фаза останува еден од најголемите предизвици за истражувачите и институциите во системите за управување со кризи во Европа.
Проектот предвидува развивање на нов модел на информациски системи за рано откривање, следење и предвидување на шумските пожари во области од особена важност, обезбедувајќи високо ниво на предвидување на опасноста од пожари.
Целта на проектот е развивање на напредни концепти за системи за рано откривање на шумски пожари со интегрирани сензорски мрежи и мобилни технологии (дронови) за собирање и стекнување на податоци на постоечките Информациски системи за управување со кризи (CMIS).

Ви благодариме за интересот,
Тимот на ASPires
Тhe ASPires project was present by Nikola Kletnikov,
member of the NATO SPS Organizing Committee "Round Table of Senior Leaders on Military and Defense Aspects of Border Security in Southeast Europe" and member of the ASPires project team.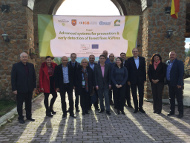 ASPires Workshop on November 8, 2017 in Berovo, fYR of Macedonia
The first of a total five planned workshops was held on November 8, 2017. Our first host was Macedonia. The Workshop was place in Berovo, small town near Maleševo Mountains.

Clima change and wildfare
EFI Forest fires key factors