Link- ASPires workshop in Berovo, Macedonia, November 2017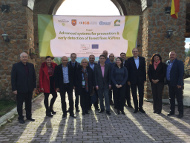 ASPires Workshop on November 8, 2017 in Berovo, fYR of Macedonia
The first of a total five planned workshops was held on November 8, 2017. Our first host was Macedonia. The Workshop was place in Berovo, small town near Maleševo Mountains.

NATO conference in Berovo, fYR of Macedonia, 29-30.09.2017
NATO conference in Berovo, fYR of Macedonia

After two years of planning, the NATO SPS "Senior Leadership Roundtable on Military and Defence Aspects of Border Security in South East Europe" took place at the Aurora Resort and Spa in Berovo, fYR of Macedonia, 23-30 September 2017.
It was executed by the C4I & Cyber Centre of Excellence at George Mason University, the Centre for Technology and National Security Policy at U.S. National Defence University and the "General Mihailo Apostolski" Military Academy - Associate Member of the University of Goce Delchev - Stip.
This was the first NATO SPS senior leadership workshop in the region. It is also the first NATO SPS grant ever executed by either the U.S. DoD or GMU. It aimed to serve as a platform for discussion and partnership development addressing Balkan cross-border threats to include violent extremism/terrorism, weapons smuggling, cyber and information operations as well as migration.
Keynote speakers were:
* Dr. Linton Wells II -- GMU's C4I & Cyber Executive Advisor and former U.S. Assistant Secretary of Defence for Network Information Integration (ASD/NII) and Chief Information Officer
* Mark Laity — Head of Strategic Communications at NATO Supreme Headquarters Allied Powers Europe (SHAPE)
* Vice-Minister of Defence Bekim Maksuti – fYR of Macedonia
* Brigadier General (ret, US-A) Russel Howard — founding director of the Counter Terrorism Centre at the U.S. Military Academy at West Point, and former head of its Department of Social Sciences
* Alan Brill — Senior Managing director of Cyber Security at Kroll
Additional speakers included representatives from:
* AT&T
* Estonian Kaitseliit's Cyber Defence Unit
* C4I & Cyber Centre of Excellence at George Mason University
* George C. Marshall European centre for Security Studies
* Global Focus Romania
* Norwegian Embassy
* NATO ACT
* NATO Defence Enhancement Education Program (DEEP)
* NATO HUMINT centre of Excellence (HCOE)
* NATO Strategic Communications Centre of Excellence (StratCom COE)
* Cyber Engineering Research Institute at Sandia National Laboratories
* United Nations Institute for Training and Research (UNITAR)
* United Nations Interregional Crime and Justice Research Program (UNICRI)
* U.S. Joint Special Operations University (JSOU)
* U.S. Naval Postgraduate School (NPS)
* U.S. National Defence University
* U.S. Office of Naval Research (ONR).
Senior-level representatives from government, think tanks, NGOs, and academia from Albania, Bosnia-Herzegovina, Bulgaria, Croatia, Greece, fYR of Macedonia, Montenegro, Norway, Romania, Serbia and the United States took part.
A NATO IOS press publication of the findings is forthcoming. Several collaborative research projects were launched because of this highly-successful roundtable.
The concept, program and research were directed by Dr. Itamara Lochard who was awarded the NATO SPS grant on behalf of both C4I & Cyber centre of Excellence at GMU and U.S, National Defence University. She will serve as editor of the book.
The NATO Partnership for Peace (PfP) country co-director is Dr. Lazar Gjurov of the Military Academy. Other organizing committee members from the PfP military academy include the dean Dr. Orce Popovski, LTC Nikola Klentikov and Dr. Jugoslav Achkoski. Dr. Dejan Rancic from the University of Nis in Serbia was also part of this collaborative team.
Nikola Kletnikov as member of organizing committee of NATO SPS "Senior Leadership Roundtable on Military and Defence Aspects of Border Security in South East Europe" and member of ASPires project team during conference gave presentation and introduced participants with ASPires project.
Participants of the conference show interest about using of sensors and drones in the project as well as developing of algorithms.
Also, representatives from USA express interest for future cooperation between different institutions from USA which are involved in dealing with forest fires.
8th International conference on emerging ubiquitous systems and pervasive networks (EUSPN) in Lund, Sweden
8th International conference on emerging ubiquitous systems and pervasive networks (EUSPN) in Lund, Sweden
The EUSPN-2017 took place in Sweden, Lund between 18 and 20 of September 2017.
The 8th International Conference on Emerging Ubiquitous Systems and Pervasive Networks (EUSPN-2017) is a leading international conference for researchers and industry practitioners to share their new ideas, original research results and practical development experiences from all Ubiquitous Systems and Pervasive Networks related areas.
The paper presented in the conference is a part of our research in Project ASPires. It presents a performance analysis of the end-to-end sensor-to-cloud personal living platform. ( download )
The analysis is based on a typical architecture starting from a single sensor and actuator and continuing to the virtualized services at smart dust, dew, fog and cloud level.
The system is diverse and allows interconnection of different sensors/ actuators technologies directly or throughout gateways.
The experiments in a living lab presented use energy harvesters and ZigBee PRO sensors. The results from sensor network are applicable for non-real-time and non-critical data connection.
For critical and non-critical measurements that need to be supported in a typical living environment there is a necessity to use different priorities of the services and different sensors as well.
For more information, click here.
Aspires at CSECS.13 Annual International Conference. Albena, Bulgaria
On the 02.07.2017 in the 13th ANNUAL INTERNATIONAL CONFERENCE ON COMPUTER SCIENCE AND EDUCATION IN COMPUTER SCIENCE is organized a Special Session on EU ASPires Project (see the programm).

REPORTS
Rossitza Goleva (BG), Aleksandar Savov (BG), Ivelin Andreev (BG), Rumen Stainov (BG), Jugoslav Achkoski (MK), Nikola Kletnikov (MK), Igorche Karafilovski (MK), Cloud, Fog, Dew and Smart Dust Platform for Environmental Analysis
Slobodan KLETNIKOV (MK), Jugoslav ACHKOSKI (MK), Nikola KLETNIKOV (MK), Igorche KARAFILOVSKI (MK), Rumen STAINOV (D) and Rossitza GOLEVA (BG), DESIGN OF ADVANCED SYSTEM FOR MONITORING OF FOREST AREA AND EARLY DETECTION OF FOREST FIRES USING DRONES, CAMERA, AND WIRELESS SENSOR NETWORK

Boris POPOV (BG), Milko SIMEONOV (BG), Borislava POPOVA (BG), Andrey ELENKOV (BG), Rossitza GOLEVA (BG), ASPIRES WEB PORTAL AS PART OF THE SYSTEM FOR EARLY DETECTION, MONITORING AND PREDICTION OF FOREST FIRES
Rumen STAINOV (D), Rossy GOLEVA (BG), Ivan CHISTOV (D), Jugoslav ACHKOSKI (MK), Nikola KLETNIKOV (MK), Ivelin ANDREEV (BG), Alexander SAVOV (BG), COMMUNICATION ASPECTS IN USING UNMANNED AERIAL VEHICLES FOR EARLY DETECTION OF FOREST FIRES
ASPires Project at SQL Saturday-10-2017-Sofia
SQL Saturday is a free training event for Microsoft Data Platform professionals and those wanting to learn about SQL Server, Business Intelligence and Data Analytics.
SQL Saturday 642 Sofia is the 9th such event organized in Bulgaria and this year it set a national record of 113 pre-conference session submissions and more than 30 lecturers at 5 parallel tracks. The admittance for all 400+ participants was free with most costs covered by sponsorships from well established companies in the IT industry on national and European level.
The ASPires project was presented by Ivelin Andreev, software architect at Interconsult Bulgaria, in the context of an area where the ICB company expertise in Machine Learning could be applied for detection and early prevention of forest fires. The key session topic Machine Learning- Unpacking the black box is intended to break some common myths for machine learning and provide a practical approach towards evaluating and improving model performance. In addition, it also provided in-depth comparison of major ML platform vendors and touches upon some more advanced topics like artificial neural networks and in particular feature extraction with convolutional neural networks.
The presentation is made publicly available at SlideShare where it got 12700+ views for just 3 days.
The slides could be downloaded from here: https://www.slideshare.net/ivoandreev/machine-learning-for-iot-unpacking-the-blackbox or as pdf
The conference website and schedule are available here: http://www.sqlsaturday.com/642/Sessions/Schedule.aspx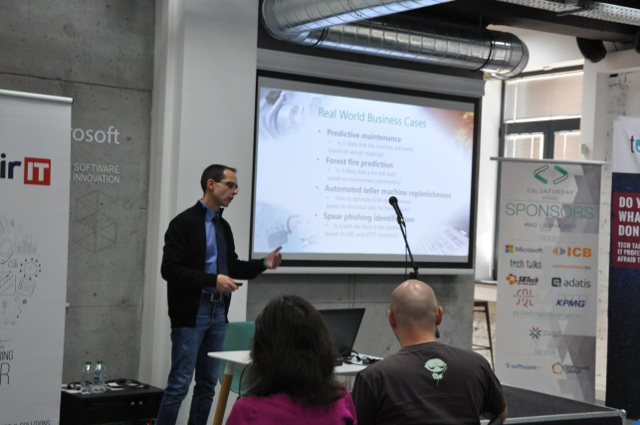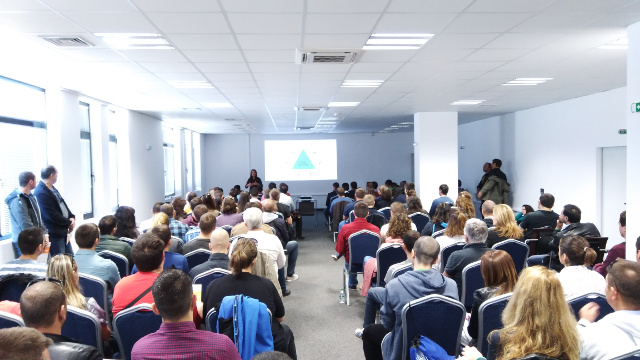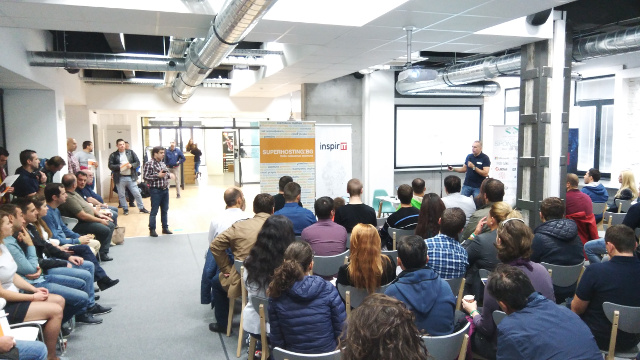 ASPires Project presented by Military Academy "General Mihailo Apostolski"
On August 30, 2017 a meeting was held by representatives of the Military Academy "General Mihailo Apostolski", members of the Advanced Systems for Prevention and Early Detection of Forest Fires Project and the CEO of the National Park Mavrovo, Samir Ajdini aiming at achieving a high level of coordination and obtaining the necessary conditions for the implementation of the project on the territory of NP Mavrovo.
Nikola Kletnikov, MA, project coordinator within the Military Academy emphasized the productive cooperation with NP Mavrovo in the previous stages of the project, which plays a crucial role in successfully attaining the goals of the project.
The briefing was especially focused on the compatibility of the projected equipment to be installed for the purposes of ASPires and the existing system in NP Mavrovo, and elaboration was provided by the representatives of the Military Academy regarding the overall operation of the sensor network, as well as its envisaged function to be integrated in support of the existing forest fires detection system.
ASPires workshop scheduled for November 8, 2017 in Berovo, was also discussed during the meeting, which presented the opportunity to invite representatives from NP Mavrovo to participate and present the expected effects from the project, as well as to take part in the discussions during the event.
In the final part of the meeting the representatives from both the Military Academy and NP Mavrovo arrived at the conclusion that due to the benefits ASPires brings about in terms of prevention of forest fires, thus protection of the areas of immense importance, as well as the endemic flora and fauna in the national park, it is of mutual interest to invest significant efforts in the further implementation of the project and timely plan each step of its implementation, as well as its future sustainability.
Recent Forest fires in the National Park Mavrovo (Fig 1.)
In the period from July 15 to August 28, 2017 six forest fires have been registered on the territory of the National Park Mavrovo affecting an area ranging from 20 to 400 hectares, resulting into damages amounting to MKD 16,163,935. The forest fires have occurred mostly on steep or steep and rocky terrain, and the greatest percent of burned trees are beech and fir, with the largest area of burned beech amounting to 120 m3 in a single forest fire, which took place from August 23-27, 2017.
Fig. 1 Forest fires in the National Park Mavrovo in the period from 15.07.2017 – 28.08.2017
No.

Time

Burned area (hectares)

Type of flammable material

Terrain

Equipment

Burned fir (m3)

Burned

Beech (m3)

Burned fir and pine (m3)

Total Cost (MKD)

1.

15 July 08:30h –

18 July 22:00h

25

Grass, maple, fir

Steep

Water bags, brooms, rakes and shovels

6

20

/

680,378

2.

26 August 8:30h –

27 August 22:00h

130

Grass, beech, fir

Steep

Water bags, brooms, rakes and shovels, 2 airplanes (9 turns)

30

50

/

2,428,370

3.

23 August 8:30h –

27 August 17:00h

20

Grass, beech, fir

Steep

Water bags, brooms, rakes and shovels

100

120

/

7,358,122

4.

16 August 8:30h –

18 August 22:00h

232

Grass, beech, fir, pine, ash tree

Steep

Water bags, brooms, rakes and shovels

/

/

30

1,951,869

5.

26 August 8:30h –

28 August 19:00h

400

Grass, juniper, fir

Steep, rocky

Water bags, brooms, rakes and shovels

/

/

50

3,114,864

6.

27 August 8:30h –

28 August 19:00h

400

Grass, fir and beech

Steep, rocky

Water bags, brooms, rakes and shovels

5

15

/

630,332

Total
16,163,935